The Adventures of Lily & Leo
Don't feel like reading? Not with Lily & Leo!
"Lily & Leo" is an interactive reading adventure in which the player is immersed in the colorful and adventurous world of the two best friends Lily and Leo. The playful teaching of learning content, morals and values, packed into exciting experiences is the focus and is intended to awaken the fun of learning, reading and puzzling.
Teaser Trailer 2021 (German)
In "Lily & Leo" everything revolves around the adventures of the two kids, which is further fuelled by their exuberant imagination. Details will follow. Stay excited!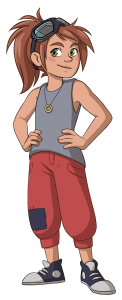 Lily is a smart but rather fierce child. She loves climbing, is agile and can run really fast. Lily comes from an alternative "Waldorf family", has quite a lot of freedom for her age and grows up need-oriented and somewhat "uneducated". 
She only listens to adults sometimes and often questions what they want from her. She respects and admires above all brave, wild and unconventional people and loves animals. Lily has already tried out a lot, does not shy away from much and is basically rather impulsive.
Lily is not a particularly big fan of school. Keeping rules and sitting still are not her thing. But because of her many freedoms she knows a lot and sometimes she picks up things that children her age should not know.
Leo is an exceptionally intelligent and smart boy. He too is brave, but not quite as wild as Lily and generally much more thoughtful and sensible, sometimes even a bit devious or calculating. But all in all he is, just like Lily, good through and through and carries his heart in the right place.
Leo comes from a rather conservative, slightly snobby family and basically has a little more respect for adults than his best friend Lily has. In contrast to her, he has to be home on time and also has to do some nasty duties, like taking out the garbage. Leo is also the one who gets into trouble when he comes home with torn clothes. But in return he knows better how to deal with adults in order to get his way and/or avoid trouble.
Because of Leo's hobby, sailing, he can also make extremely practical sailing knots. These have already proved to be extremely useful to the two friends on their adventures.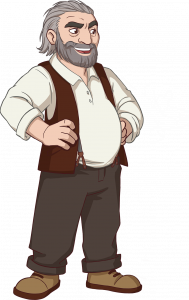 Dimitrij "Pepo" Pepovic is an old Russian who has lived in the neighbourhood of Lily and Leo for a long time, but of whom nobody really knows what he does, where he comes from and what he actually lives on. He is an old eccentric and lives very secluded in his somewhat curious house with its overgrown garden. The adults think he is strange and odd. Because old Pepo always stays to himself and is somehow a little different, the children in the neighbourhood are all a little afraid of him. But since Pepovic – when you get to see him – is always nice and affectionate despite his angular nature, none of the adults really openly rejects him.
Over time he becomes a kind of mentor for Lily and Leo – without the adults knowing it, of course, because the children have so much feeling for the situation that they prefer to keep it to themselves. Pepovic is happy to fire the children's wild fantasies, spurring their thirst for adventure and supporting them in their adventures. He has a good-natured character with a wild sense of humour that is not at all politically correct and he does not think much of dealing with children in a "pedagogically valuable" way. Instead, he treats them like little adults and above all like great adventurers whose most important task is to discover the world around them, which for him is just as magical, incredible and fantastic.
Quattro is the dog of Leo and already a bit old. It is a rather leisurely, sedate and – if you can say that about a dog – quite wise fellow. Usually he tries to save the two good-for-nothings from difficulties, but he is also very greedy!
Nevertheless, he always stands by Lily and Leo on their adventures as a faithful companion and has thus already caused more than one turbulent situation.